We have started planting the Pinot Noir. There is some budswell and even budburst on some of rootlings so we have to be careful not to knock the emerging shoots off while planting. The soil in this block is quite moist and not as sandy as in the Semillon block. The down side was the number of rock floaters. We came across them in nearly every hole dug so was quite an effort to get them out. Elbow grease and a crow bar do wonders.
Spacing within the row is 1m. This is very close on a high potential site. But I am experimenting with close planting to see if competition between vines will reduce any potentially unwanted vigor.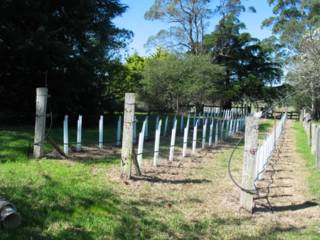 Pinot Noir Block
Pinot Noir is very sensitive to crop load and any overcropping reduces flavor intensity. So hopefully the vines will be balanced (vegetative growth /fruit load ratio) under this system and the resultant wine will have some typical varietal properties.
This is NOT the climate for Pinot Noir ( too warm!) but it is a challenge to try to grow some of reasonable quality. OK, it's a whim!
Opened a bottle of my 2004 rose' made from Cabernet Sauvignon last night. I was pleasantly surprised. The wine was a vibrant pink with no indication of oxidization and dry, in the Rioja style it was made, but still fruity and with some residual spritz. Will be great with lunch (prawns!) during those upcoming hot summer days.
Pity there is not much of it.
With the pending growth of Tempranillo as well Pinot Noir in 2006 there is some potential to increase rose' production. It's a much maligned and forgotten wine style in Australia which is a shame.