Our daily routine has been interrupted for 2 or so weeks by overseas visitors.
We did the tour guide and entertainment director thing.
The weather was kind except for 4 days of beautiful soaking rain. They may not have enjoyed it but we certainly did. 125mm built up the sub soil moisture, almost filled the dams and certainly filled the water tanks.
It was amazing to see the country turn green almost over night. Not exactly drought breaking but a positive step forward.
The grapevines, both old and new, responded well with accelerated bud burst and shoot growth.
We took the visitors to many of our beaches and although the water is still quite cool enjoyed a swim and a lie in the Spring sun. Despite the school holidays many of the beaches were basically deserted. This will certainly change as the Christmas holidays approach. It was also great that plenty of wild life showed up to keep the visitors entertained. Lots of parrots and kangaroos. We even came across a red bellied black snake sunning itself by one of the dams.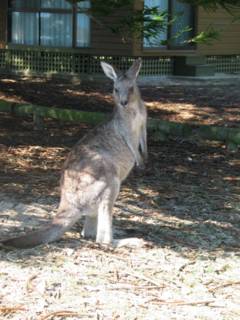 A Visitor
We fished in the surf off the beach a lot but were not too successful. A few salmon and a couple of small flathead were the only prizes. We also took a deep sea fishing trip about two miles off shore from Batemans Bay. It was a great sunny day with not too big a swell running. Again not a lot of fish were caught. The highlight of the morning was the arrival of a whale and calf, both of which came right up to the side of the boat to have a look at us. They stayed quite a while before continuing their journey south.
We also visited Canberra to see the War Memorial and the Australian National Museum.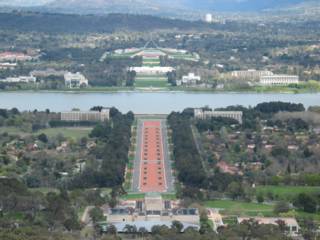 Canberra
On their last weekend we visited Sydney where we spent time in the Rocks at the weekend markets as well as few of the old pubs.
The Sydney Harbour Bridge from The Rocks
We then took the ferry to Manly for lunch out of Circular Quay past the famous Opera House.
The Sydney Opera House
So now it's time to get back to work.
The Cabernet needs shoot thinning. The new plantings need to be monitored for shoot growth and eventually the weakest thinned out leaving one to form the trunk.
The cattle are beginning to look better now that there is some grass growth. Their feed continues to be supplemented by hay.