Christmas celebrations were held on the farm with extended "family". There were lots of presents to open on Christmas morning and Santa was very kind to each of us. Instead of the traditional hot dinner we decided this year to make it 100% seafood. So we had a feast of oysters, prawns, lobster and Balmain bugs all washed down with copious quantities of sparkling white wine and Semillon. We did however revert to plum pudding and brandy custard at the finish.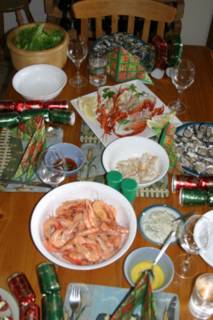 Christmas Dinner
The Cabernet Sauvignon has reached the bunch closure stage ie. the grape berries have reached maximum size. This meant a final spray against botrytis. Most of the bunches are quite large and have substantial "wings". This indicates a good potential yield. We now await veraison (color change) and the ripening process.
Bunch Closure Cabernet Sauvignon
Due to the fact we are heading north to Brisbane for 3 weeks, we had to net the Cabernet in case early ripening attracted the dreaded birds. They can wipe out a crop in a few days. This meant a thorough spraying against downy and powdery mildew. It is a risk to leave the grapes for 3 weeks without spraying but am sure the weather will be with us and all will turn out ok. The new vines continue to do well.
Netted Cabernet Sauvignon