Life settled into a regular pattern in Sioux City. Most of the limited tourist
attractions had been expended. But even if there were plenty of places to go see, the weather would have been a major problem. It was extremely hot every day with temps reaching 95-100F and humidity around an energy sapping 95%. You would think it would be dry in the middle of the continent. The high humidity is caused by the warm air stream coming up from the Gulf of Mexico, the rivers and lakes and, I heard on the weather channel, the transpiration of the hundreds of thousands of acres of crop (corn and beans) that grow in the mid west. The desert areas of the southwest were copping it too. Temps were well over 100F every day and lots of people were dying. Death Valley was around 125F for many days. Things are supposed to get worse through August.
I went to a tractor pull in Granite, IA. This town was two streets by two streets but once a year they have an antique tractor show with all sorts of activities over three days. In fact the showground was bigger than the town.There was a big supporter group of family and friends all set up on the flat bed of a semi trailer. Sadly "our" old tractor was not running too well and finished 10th in its class. It was a hot night so we drank plenty of Old Milwaukee (as apposed to my usual MGD) which helped wash down traditional show fare of a thick slice of roasted pork loin in a bun with either BBQ sauce or mustard plus a huge tray of what would be equivalent to our potato wedges. Later in the evening and had a few more beers at the local equivalent to a RSL club. I was feeling no pain when we hit the sack at 2am.
We had heard about a quilt shop worth visiting in Fremont about 70 miles south.We set out in the relative cool (high 80's) of the evening.It was a nice drive through rolling hills of humidity generating corn down to the town which straddles the Platte River. We went through a town called Oakland which touted itself as the Swedish capital of Nebraska. All the light poles and public buildings were decorated with painted wooden horses which apparently are the traditional toys of Sweden. When I looked up their significance on the net I found another town that also claimed to be the Swedish capital of Nebraska. Nothing like a bit of competition
The quilt shop was on Main St.(where else) in the old part of town. This area had been well preserved and had a large number of cafes and antique shops. But at 7pm it was all but deserted and the shops (apart from the quilt shop) closed. In an antique store I saw a collection of American flags all with varying number of stars on them dependent on their age. From the high price of each, they must be collector's items. From photos on the street directories, it was apparent that Fremont had been a thriving town in its day when it was a gateway to the west but was now it was obviously in decline.
So my time in the Midwest came to an end and I headed for a brief stay in Houston with some friends that I had met in Germany in 1982/83.
No problems with the flights from Sioux Falls via Denver. Houston Airport was easy to negotiate and I was soon on my way to the southern suburbs. It's certainly a spread out city of around four million with a spectacular CBD skyline of tall buildings. Eight lane freeways criss cross the city with huge clover leaf interchanges. They were packed with traffic no matter what the time of day but ran smoothly.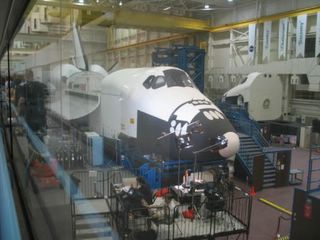 Shuttle Mock Up, Astronaut Training Centre, Houston
Next morning we went to the Houston Space Centre. There certainly was plenty to do and see there. We visited the Astronaut training centre as well as the old mission control centre ("Houston, we have a problem"). They had a mock up of the Shuttle in the former. It certainly is bigger than I expected. We got to see all sorts of space vehicles from the past as well as a life size mock up of the flight deck of the shuttle.
They have a vault full of artifacts from the moon missions. I actually got to touch a moon rock! There were plenty of theatres showing movies on all aspects of the space program.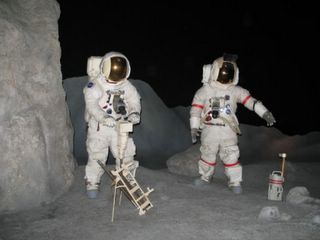 Astronaut Exhibition, Houston Space Centre
This is an attraction well worth the visit. I was amazed when it got to 6pm and it was time to go. We had spent the whole day there!
Next morning we drove down to Galveston and had a walk along the shores of the Gulf of Mexico before a late breakfast. At 9am it was 95F and 90% RH! Phew!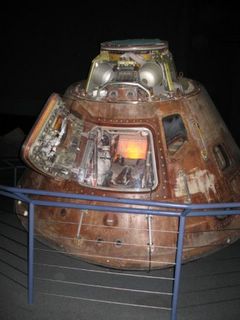 Apollo 17
Then it was back to the airport for the trip home. We were grounded for an hour or so in Denver due to a huge thunderstorm which closed the airport. This was quite a show with simultaneous thunder and lightning and torrential rain. Then we experienced an aborted landing in Los Angeles due to traffic on the runway. The latter was quite exciting. The pilot virtually put the 767 into a vertical climb with engines at full thrust. We had been very close to the ground and the wheels were already down when he was told to go around.
The flight home was quite uncomfortable. The plane was absolutely full and United's service was not to the usual standard. I was glad to get to Sydney.
So that was the three months that was. Now it's back to the grind!