We have been staying for a short while in Onamia (O nay mi ah) in northern Minnesota. We are in a motel right across from Mille Lac Lake, the second largest of the reputed 10,000 lakes in the state.
This area's landscape was formed by glacial advances, the latest about 10,000 years ago, which pushed up a natural barrier of rocks and gravel like a giant bulldozer. This natural "dam" wall now contains this lake and many others which are filled from water draining from the north. There is only one small outlet, the Rum River on the southern western edge, which I think, runs into the St. Croix and eventually the Mississippi.
The land has been inhabited for about 9000 years but the best known are the Dakota Indians who arrived around 1100AD. They named the lake Mde Wakan (lake of the spirit). They first met up with the white man (the French) in the mid 1600's and it was here that Louisiana was claimed for Louis XIV of France in 1679.
The Dakota were pushed out towards the west by the Ojibwe as they migrated from the east under the pressure of white civilization. They occupied a considerable area of what is now Minnesota. They called this lake Missisagaigon (great lake). For trivia buffs, Mississippi in Ojibwe means great river. Their tenure became insecure as the area became important for timber and subsequent farming. The Ojibwe experienced all the problems of displacement, broken treaties, forced assimilation, attempted genocide and poor health that most other tribes experienced but they have fought hard for their tribal land over the years and have finally had their claims recognized by the USA supreme court. But even now the state government continues to appeal against this decision (does this remind you of anything?). Their descent into further poverty, unemployment and poor health has been prevented by the establishment of casinos on their reservations.
The Mille Lacs band of Ojibwe Grand Casino with its 400 room hotel is very large and has all the attractions associated with such an enterprise. It's open 24 hours a day with 4 restaurants, almost any game you wish to mention (but not two-up) and a great number of poker machines which usually give you a good run for your money (or so I have heard). There is also a theatre which boasts forthcoming big names from the mainstream entertainment industry. The one thing it doesn't have is alcohol. The whole establishment is "dry"! In the main restaurant they offer alcohol free wine. I tried a merlot.
NOT GOOD!
We played Bingo one night. I won nothing. One game had a jackpot of $24,000. No one won that. A lot of players were using electronic bingo machines. No need to mark off the numbers. It does it for you and beeps when you have one number left. Talk about lazy!
The area is very pretty with dense forest almost up to the shoreline. A few small towns and villages surround the 207 sq. mile lake. These mostly cater to the tourist trade as well as the semi permanent residents who have established many holiday homes and cabins in the area.
The major recreations are fishing and hunting and of course winter sports, mainly cross country skiing. One store near us has a huge sign out front, "Gifts and Guns". Gee, I wonder if Grandma would like an AK47 for Christmas? It seems that owning a small business in these towns requires some entrepreneurial expertise. The Laundromat I went to was also a tanning salon and car wash!
The lake is frozen to a depth of 30-40 inches for about 140 days a year but this does not stop the fishing. You can rent icehouses which you slide out onto the lake, auger a hole through the ice and fish in heated comfort. There is a huge amount of wild life in the area and the road kill each morning (mainly deer) is a little sad. Remember Bambi's mother?
A work colleague of Kris's had hit five in the last six months, completely writing off two cars. Yes, she still gets insurance.
This is also black bear country. Apparently there are lots around and they come into town quite often. One was found asleep on the front porch of one of the clinic workers. No walking in the woods for this little red engine.
Bird life in the forests and on the lake is quite prolific. The lake is full of walleye, pike, bass and muskie but fishing is strictly controlled with very conservative size and bag limits. I took a fishing trip from Eddy's Resort in a beautiful old wooden boat. I have to say here that I paid a "senior" rate which is 50% off. Fifty-five is the senior age in the USA and you can obtain all sorts of discounts from transport to tourist attractions to meals. They don't seem to mind if you are a foreigner either.
Of course I needed a fishing license. That was easier said than done. They cater for "out of staters" but not as far out of state as I was. The automated system requires a social security number. Apparently the government uses fishing licenses as one way of tracking down errant fathers who do not pay their child maintenance. After a number of phone calls to the powers that be I was issued with an honorary 24 hour SSN and the license!
Lake fishing was quite different from that off the beach. We used very light gear and a bobby cork which kept the bait a foot or so above the lake bottom. I used garden worms, the others favored leeches. Not a lot of fish were caught by the 10 of us in the four hours we were out. The biggest was a 5lb walleye which had to go back. I caught four smaller ones which also went back. But who cared! It was a beautiful day on the lake with plenty of sun, a light breeze and some fun company.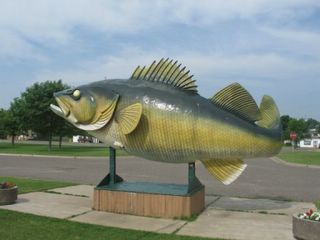 The One That Got Away, Onamia, MN
There is also an insect "problem", the most famous being the Mayfly. It hatches in early summer, lives for a day, mates, then dies. Apparently there are billions of them for about a week and they clog up everything. We thankfully missed this phenomenon. It is said that the state bird of Minnesota is the mosquito. We can vouch for that. They may be large and slow flying but they attack in squadrons. With West Nile virus rampant, Aeroguard tropical strength or its equivalent is essential.
After breakfast of OJ and an egg, cheese and bacon bagel at Maccas in Garrison (the smallest town in the world to have such an establishment), I set off on the three hour drive to Lake Itasca, the source of the Mississippi River. The night before we had had really bad storms and were under tornado warnings for a lot of the time. As a result of this front moving through, the weather was cold, wet and windy for this trip so it was tough going. The roads traverse tundra like wetlands covered in swamps and lakes with outcrops of granite. Occasional higher ground is covered in very green forest thick with maples and silver birch which was sometimes cleared for cropping. It reminded me a lot of Sweden. It obviously did the Swedish migrants too who named a lot of their towns after those in their homeland. But Minnesota's Malmo has a population of only 36. Many of the lakes were filled with beaver dams not that I saw any of the animals themselves.
Luckily the rain stopped long enough for me to make the walk down to where the Mississippi runs out of the lake beginning its long 2500 mile journey to the Gulf of Mexico. Lots of people make this pilgrimage. It's only a few meters wide and you can either wade over or take your chances on some slippery rocks. One young smart ass hooning around with his mates actually fell in much to the amusement of onlookers. There is also a log bridge a little downstream for the more conservative. The lake was very misty and somewhat eerie in the wet conditions. Pity the camera couldn't capture the atmosphere. The State Park that surrounds the lake is very pretty and it was disappointing not to be able to see more of it. The visitors' centre was packed with drenched tourists enjoying a great display of the history and natural wonders of the park as well as all you ever wanted to know about the Mississippi.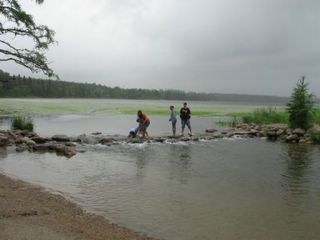 Source of Mississippi River, Lake Itasca, MN
So now it's the 4th of July long weekend. We will be heading towards Hudson, Wisconsin, then it's onto Sioux City, Iowa or Nebraska (depends on which side of the Missouri you are on).